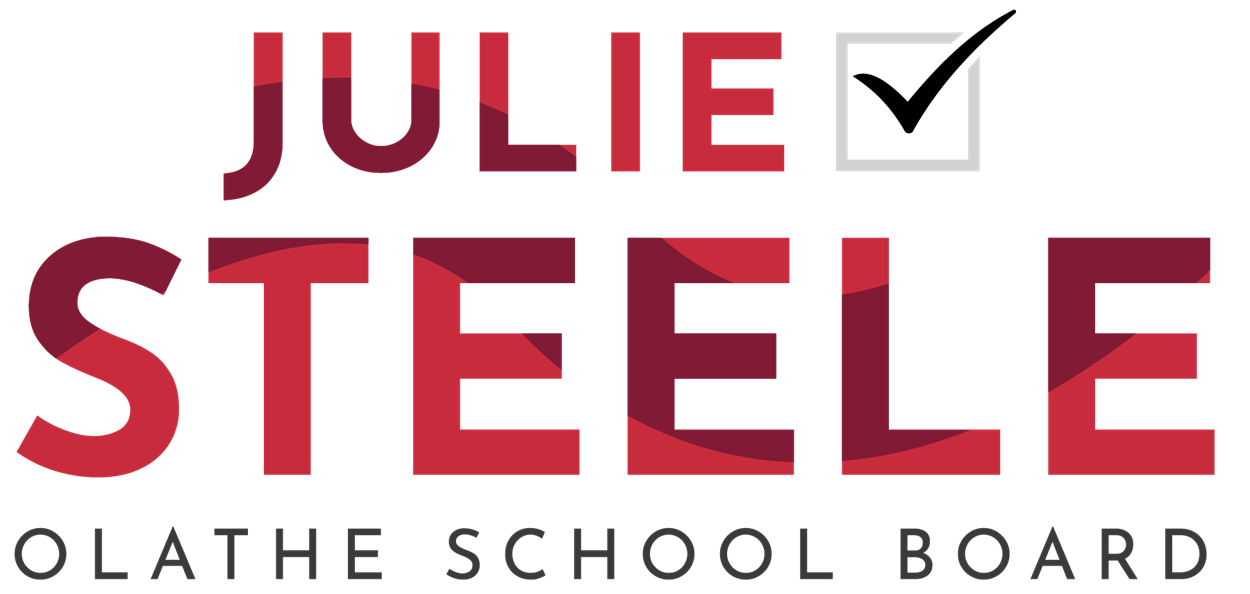 Julie Steele grew up in the Olathe School District where she benefited from unique educational opportunities, compassionate teachers, and strong community support. That's why, after receiving a Bachelor's Degree in Psychology at KU and then a Master's Degree in Special Ed (Early Childhood) at Emporia, she returned to Olathe to teach and to give all four of her children the same great opportunities.
As a former student, parent, and teacher, Julie is uniquely qualified to understand what our district needs. During her teaching career, she served as an Early Childhood Special Education teacher at Heatherstone and Walnut Grove Elementary Schools. She also has experience working for Infant Toddler Services of Johnson County and started two Kid's Day Out programs, one in Wisconsin when her family lived there for three years and one of which is here in Olathe at the Grace United Methodist Church. Julie's experience in education, both as a classroom teacher and a mother of four very different kinds of learners, has taught her that it is crucial we stay open to growth and change for an organization like the Olathe School District.
A strong supporter of public schools in general, Julie is passionate about our local Olathe schools. She has a great deal of respect for the qualified and dedicated decision-makers in the Olathe School District, from the administration through to the classroom teachers and staff who have always focused on providing a model of lifelong learning. As a member of the Olathe School Board, Julie's focus will be to support the continued funding of our vital programs and exceptional staff. But she also recognizes that we need to meet the evolving demands of preparing our students for their future. Three areas that contribute to our district's success are greater diversity engagement, safety for all students, and a more open channel of communication with our citizens. Julie is prepared to put words into action as she helps Olathe to grow into the future.