Those who know Julie best will tell you that the way she embraces life comes from a deep appreciation of the many blessings she has enjoyed. Raised in Olathe by caring parents, Jim and Joellyn, Julie saw at a very early age how to serve your community in a selfless way. Watching her dad serve on the Olathe City Council for more than two decades meant watching her mom serve, too. That was also during her mom's career as an Olathe Special Ed School Nurse. The two of them showed Julie and her sister how important it is to give of your time, talents and treasures through church, charities, and public service.
That drumbeat of service has always pounded in Julie's chest as well. As the Mom to four amazing kids and a fulltime Director of Operations for the private audiology practice that she and her husband Tim own, there was precious time to dedicate herself to a formal position in the community. Now, with three of her kids out of High School, Julie is passionate about contributing to the growth and success of the schools and students in Olathe by serving on the Olathe School Board.
All four of Julie and Tim's children, Bo, Meg, Caroline and Kate, have grown up in the Olathe School District. They attended Manchester Park Elementary, Prairie Trail Middle School and Olathe Northwest High School. The education provided to all of their kids reiterated to Julie how very different learners can be and why it is vital that schools are able to meet the individual needs of each student.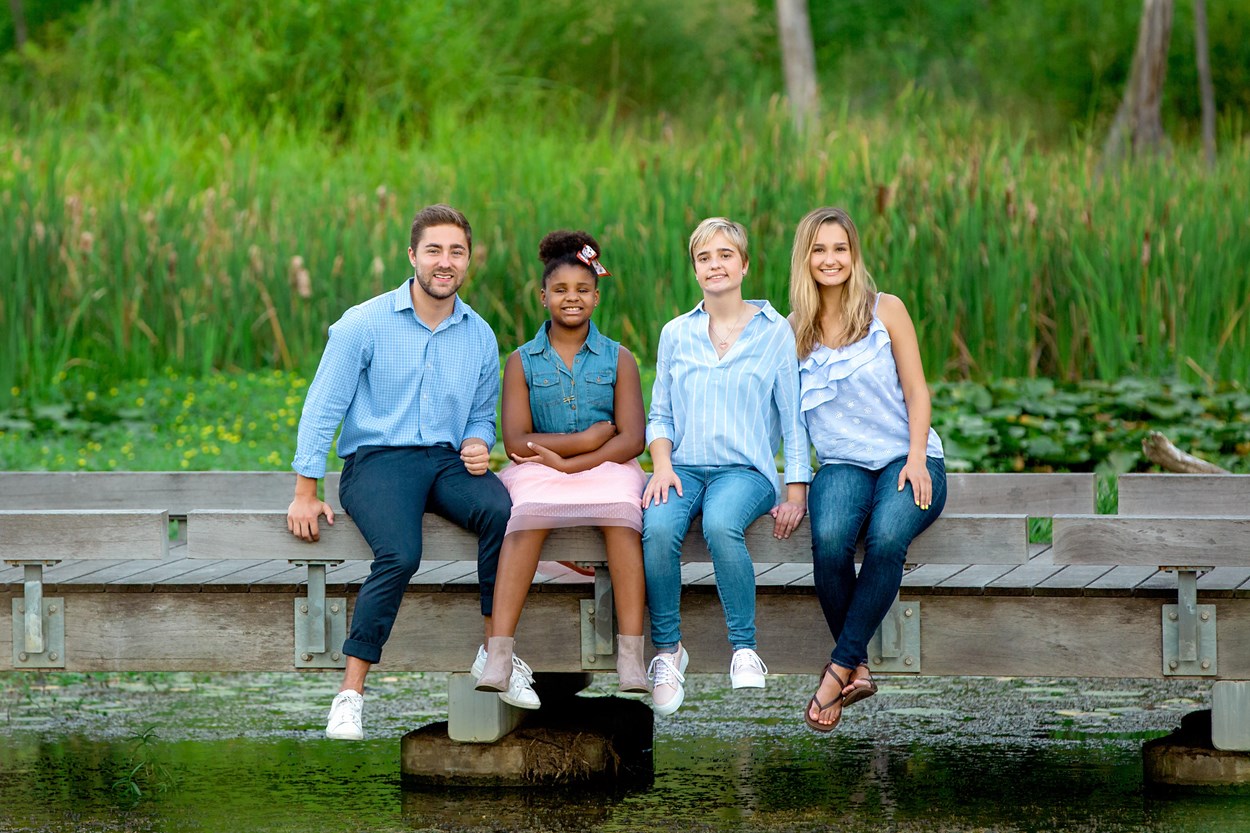 Bo, their oldest, is currently in his first year of medical school at KU Med in Kansas City, KS. Meg graduated from the ACCESS program offered in Olathe and has a goal of working at a nursing home. Caroline is now a freshman at the University of Kansas, is in the honors program and the accelerated law program, LEAD. And Kate, their youngest, is enjoying the many activities at Prairie Trail Middle School including track, band and the school play.
In addition to spending time with her husband and their kids, especially around the Sunday dinner table, Julie has served on the Board of Infant Toddler Services of Johnson and County and currently serves on the Olathe Advisory Board of the Olathe Boys and Girls Club as well as the Prairie Trail Middle School Site Council. She and Tim are also chairing a 2-million-dollar capital campaign at their church, Old Mission United Methodist Church in Fairway, KS.
Julie is excited to be a part of the Olathe School Board and work towards solutions to the challenges facing our students through the next four years. If you'd like to connect with Julie, email her directly at Julie@votejuliesteele.com.
There are several important issues Julie wants to ensure the Olathe School Board embraces in the coming years. Creating more diversity and inclusion in our staff and opening the lines of communication with parents are areas where Julie sees a need for growth.
Diversity Recruitment/Education and Inclusion
The recruitment of diverse teachers and administration is vital to our success. While Olathe District leadership has expressed their commitment to achieving this diversity and inclusion, Julie believes that we can't afford to simply wait for these results. We must do things now for our students to be exposed to teachers, staff and administration who better reflect our community and the world. Our children of all races and ethnicities need to have exposure to adults who look like them... leaders they can look up to and aspire to be. This responsibility can't wait, as the students in school now will have missed out on a vital perspective that diversity affords them. After all, in 2018 over 24% of the community in Olathe identified as non-Caucasian, with that number only increasing in the past years. Our School System needs to better reflect who we are as a community.
Julie wants to partner with schools and administrators to develop mentoring programs with leaders in our community. She'd like to support the district in exploring the concept of offering clubs that are focused on diversity where students can find their voice. She'd also like to connect our E-Communications program at ONW to work directly with the city to develop a commercial-like ad focusing on what a great city we live in and share the many unique offerings that the Metro has to offer. This join ad campaign could be a part of our recruitment efforts. We need to tap into the amazing diversity our community already has and make sure others know who we are and how inclusion is at our core.
Communication
It's clear that the ways in which we communicate have changed rapidly in the last decade. We are constantly barraged with information that is sent in an almost clinical fashion in an effort to keep us informed. While it is important, as parents, to know the details of what is coming up in our students lives, we need to ensure we have two-way conversation paths that are readily available and actively supported. Our teachers need to have a safe place to share their struggles in the classroom and have the support of the administration to solve them. Our parents need to know they can connect with administrators and the Olathe School Board to open conversations. As Julie connects with parents across the district, they overwhelmingly express the feeling that communication in the district is rote and specific to reminding parents of things like professional development days, mask updates or when State Assessments are happening. Let's go further than that as a district and be more creative. The daily stories that happen in the classroom, at the heart of our district, should be shared with our community and beyond! Olathe Schools are always striving to be better and in the midst of that we have so much to celebrate and share.
Julie feels strongly that decision-makers need to be accessible. She is excited for you to reach out to her directly to open a channel of communication to share your ideas and goals for the future. Call her at (913) 485-5540 or email her at julie@votejuliesteele.com.